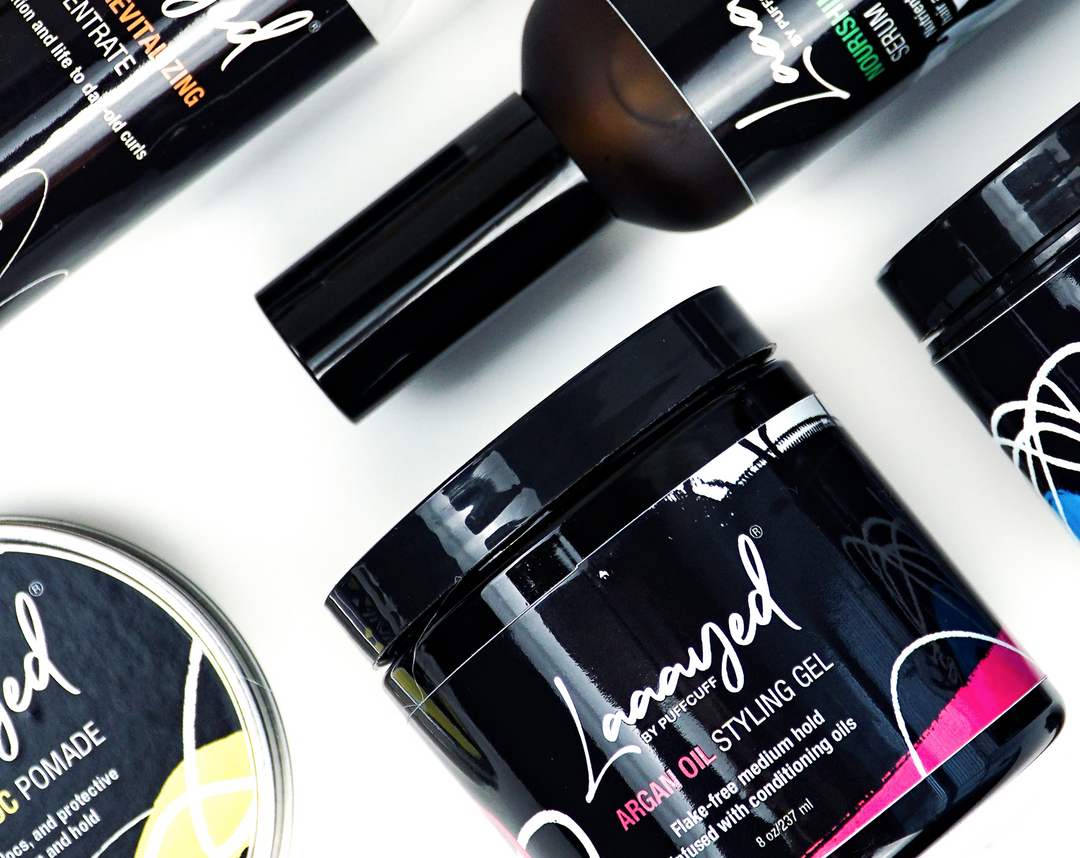 LAAAYED BY PUFFCUFF
MADE IN THE USA by a curly girl for other curly-headed folk – Created with curls and natural hair in mind, LAAAYED️ combines science, sophistication, and elements of the Earth — formulated with ingredients such as aloe vera extract, argan oil, and jojoba oil. All providing moisture and protection to each hair strand. LAAAYED products are non-drying, contain no alcohol or sulfates, and provide you with the styling power you need to rock your curls all day. From styling your edges to nurturing your coils, we got you.
GET THE LAAAYED LOOK
PuffCuff Hair Clamp was created to make it easier to get trendy looks without stressing or destroying your hair. It's also sanitary, durable, and economical. Curly, textured, or wavy, there are 5 PuffCuff sizes that work with hair types from 2c to 4c so you can create gorgeous hairstyles without cinching, damaging, or giving a headache.
The BEST

★★★★★

The Laaayed Braid and Loc Pomade is the BEST! I used it to do twists and they lasted for a week and a half! I was really impressed because with other products I've used in the past, only lasted a few days before they start to come out at the roots. I don't like my twists to look "nappy" at the roots. Also, what impressed me was the length retention. My twists didn't shrink at all. I give this product two thumbs up 👍🏾👍🏾! Great job on creating this product. I ordered the Laaayed Edge Control and I'm looking forward to trying that out. 😁

Kim J.

January 04, 2021

Set Ordered: LAAAYED® Braid & Loc Pomade
My curls love this mousse!

★★★★★

This mousse is super moisturizing. My curls truly respond well to it. My curls end up being shiny, bouncy, super light and defined. Make sure your hair is dripping wet for best results. You need to try this!

Shanice

December 10, 2020

Set Ordered: LAAAYED® Silky Smooth Curl Defining Mousse
Longer lasting curls and move volume

★★★★★

This was my first ever mousse and I LOVE it! My curls (2c/3a) held their definition better while I slept than with just my usual gel, so now I'm actually able to wear my curls down for three days in a row. I use a puff cuff for nighttime protection and I'm so pleased that their mousse has completely improved my curl game as well. I love this brand!

Melinda

January 2, 2021

Set Ordered: LAAAYED® Silky Smooth Curl Defining Mousse
Love it!

★★★★★

I massage this into my scalp to help with dryness, especially now that the weather is getting colder. I also applied it to my hair and I couldn't believe the shine! 5 Stars!!!!!

Melissa C.

November 04, 2020

Set Ordered: LAAAYED® Nourishing & Soothing Serum
The Best

★★★★★

Hands down the best edge gel I have used! A little last all day with no creeping!

Tashia S.

December 07, 2020

Set Ordered: LAAAYED® Firm Hold Edge Control
Curl Revitalizing Made Easy!

★★★★★

I loved using the LAAAYED Daily Curl Revitalizing Mist Concentrate because it was super easy to use! Oftentimes I'm stuck struggling to figure out what to add and combine in order to refresh my curls. With the LAAAYED Daily Curl Revitalizing Mist Concentrate all I had to do was pour into my misting bottle, add, water and shake! All of the healthy ingredients that I normally search for were right there ready to use. A little goes a long way and I can quickly refresh my curls every morning.

Tabitha W.

October 18, 2020

Set Ordered: LAAAYED® Daily Curl Revitalizing Mist