HOW YOU DETANGLE MATTERS! OUR TOP DETANGLING TIPS
Knowing how to properly detangle your hair is just as important as knowing how to style it! Detangling the wrong way or forgoing the process altogether can result in hair loss, dryness, and gnarly knots that have to be cut out. Incorporating a detangling session into your routine helps boost curl definition, prevents breakage, and makes the next session a little easier!
So what happens when you don't detangle? Think about it, the more your hair is tangled the more work and pulling is required to break through the knots. Aggressive combing will get rid of your knots... But your hair will end up in your comb rather than on your head.
WHY DOES CURLY HAIR TANGLE?
All hair textures get tangled, but the spiral shape of curls means it's easy for curly to twist around each other. As time passes, these strands become intertwined and are difficult to remove if left untreated. Other factors that contribute to tangling include exposure to friction, dry hair, and improper detangling techniques.
As with all hair advice, every head of hair is unique, but there are some basic techniques and tools that all of our curlfriend should know about! We'll start with our cardinal rule:
Find your favorite spray bottle, oil, conditioner, or leave-in and become best friends with it. Moisturizing products, like the LAAAYED™ Nourishing & Soothing Serum and LAAAYED Daily Curl Revitalizing Mist, provides slip which allows your comb to move through the hair easier while reducing the amount of tugging and pulling. We do not suggest detangling your hair while dry, which typically results in more breakage and takes more time.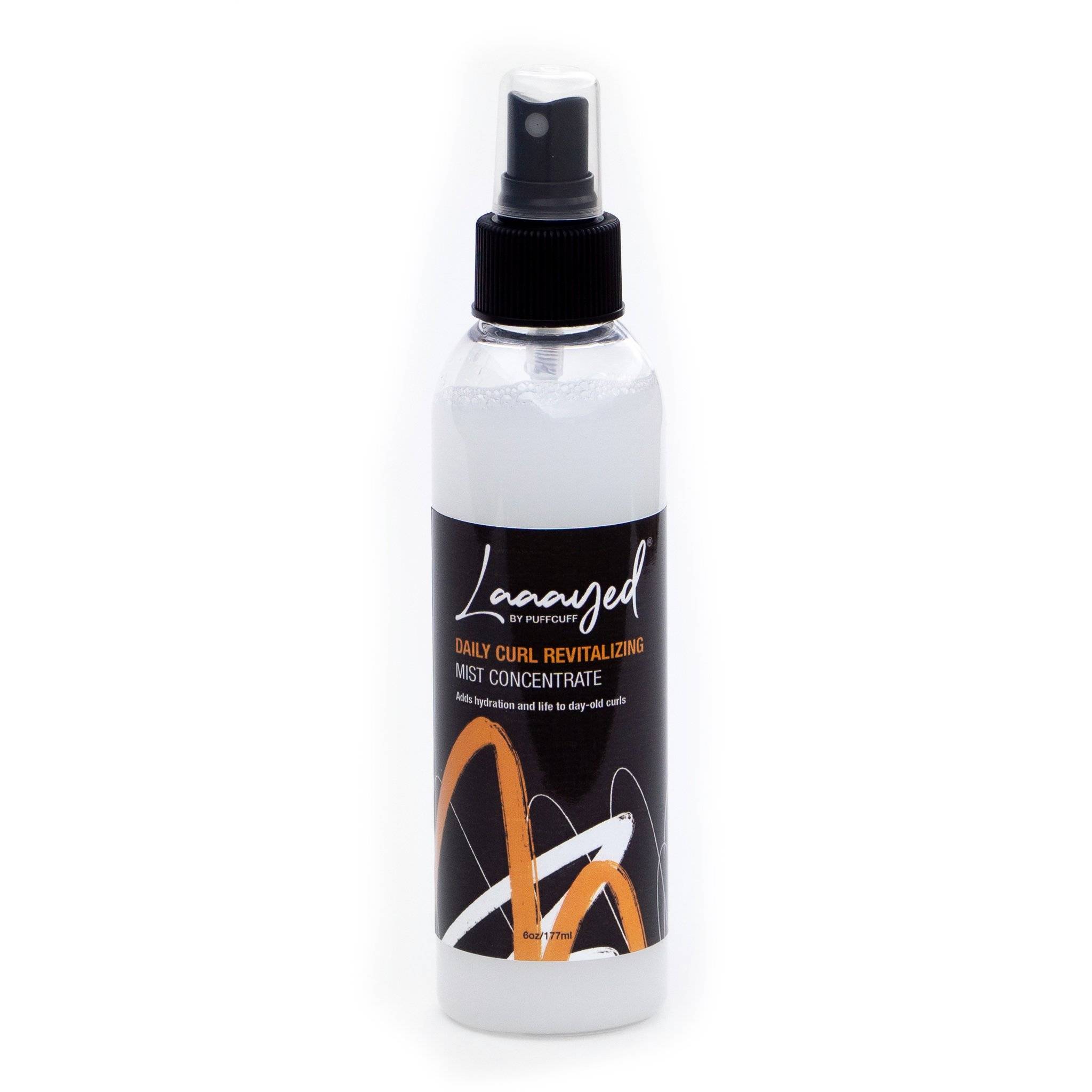 Your detangling comb of choice should be a wide-bristle brush that can easily work through knots. Flexible rows are an extra plus because they don't force their way through entangled curls. We love the TangleMaster® Detangling Brush because it features flexible rows and spaced-out bristles/teeth that detangle while minimizing pulling and breakage.
Fine-tooth combs should be avoided when it comes to curly hair. There is not enough space between the teeth for curly hair to move through, which results in excess pulling and breakage.
Detangling your entire head of hair at once may seem like a daunting task, but dividing your hair into sections will help make the process easier. Before you detangle, part your hair into at least four sections. Not only does this help with making the process more manageable, but it also ensures that you thoroughly remove knots and evenly distribute your moisturizing products.
Plus, you can use a PuffCuff MINI, MICRO, or TEENY to hold your sections in place while you work!
Tangles can form when you least expect them, in your sleep! Friction from moving around and rubbing against abrasive materials like cotton can cause hair to become tangled, dry, and damaged. Substituting cotton for a 100% Mulberry Silk Pillowcase and wearing a Silk Bonnet will significantly reduce friction while you sleep, keeping hair hydrated, preserving your style, and preventing those nasty knots from popping up.
Detangling isn't perfect! Don't get caught up trying to achieve 100% tangle-free hair. Instead, focus on tackling the large knots, distributing your conditioner, or using gentle pressure to prevent pulling.
---